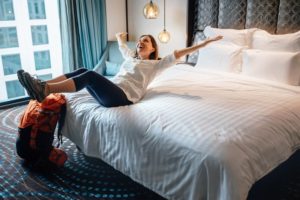 With COVID-19 numbers beginning to decline and summer just around the corner, many people are thinking about taking a vacation sometime in the upcoming months. Whether you plan on traveling across the state, across the country, or around the world, it is important that you prepare well for your trip with a view to keeping up with your obstructive sleep apnea (OSA) treatment. Here are a few practical tips on traveling with sleep apnea:
Traveling with a CPAP
CPAP machines are medical equipment, so airlines shouldn't stop you from bringing your CPAP onboard as a carry-on. If you are going to another country, keep in mind that you might need to bring a power adaptor. Also, if you are a frequent flyer, you might find that it is more convenient to travel with a mini-CPAP instead of your regular machine.
Traveling with an Oral Appliance
Even if you invest in a mini-CPAP, traveling with it might still be inconvenient. Ask your physician or dentist if you qualify for oral appliance therapy instead. An oral appliance is a small device, similar to a mouthguard that is worn for sports, that repositions the jaw at night to facilitate easier breathing. Oral appliances are easier to clean, store, and travel with than CPAP equipment.
Bring Your Own Pillow
You never know what kind of pillow you might have to use when you travel, whether you are staying at a hotel, an Airbnb, or your in-laws' house. Bringing your own pillow can make it more comfortable for you to sleep in a position that allows for easier breathing. For example, most OSA suffers experience a reduction in symptoms if they sleep on their side. Side-sleeping can be difficult without a supportive pillow.
Resist Caffeine Cravings
If you are traveling a long way or will end up in a different time zone, caffeine might seem like an easy way to get the energy you need to power through your trip. But remember that caffeine will make it more difficult for you to fall asleep and may affect the quality of your sleep. It may even worsen your sleep apnea.
Schedule Rest
Your vacation should invigorate you, not exhaust you. Keeping some open time in your vacation schedule can give you time to relax and prevent you from becoming overly tired. The more tired you are when you go to sleep, the more likely you are to snore and experience sleep apnea symptoms.
Are you going to hit the road soon? A little advanced preparation can make it possible for you to continue with effective sleep apnea treatment wherever you are.
Meet the Practice
Dr. David J. Drummond has almost 40 years of experience as a dentist. He is passionate about helping people who suffer from sleep apnea in Lawton find long-lasting relief via oral appliance therapy. If you are concerned about sleep apnea or how to manage your condition while you are traveling, he would be pleased to speak with you. Contact our practice at 580-355-0344.