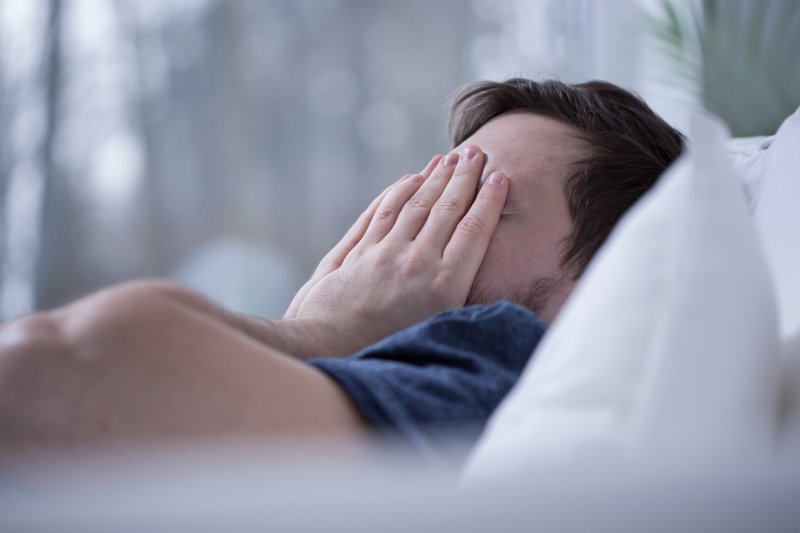 What is your first thought when you realize that you might have sleep apnea in Lawton? Do you seek treatment immediately, or do you wait to see if the problem takes care of itself? Many people take the latter option, thinking that sleep apnea will eventually go away on its own, but of course this decision can have serious long-term consequences for your overall health. A sleep dentist can explain the potential causes of sleep apnea and why ignoring the condition is never a good idea.
What Causes Sleep Apnea?
The most common form of sleep apnea is obstructive sleep apnea, which occurs when any part of the airway collapses or is blocked while you're asleep. There are many contributing factors for this condition, not the least of which is your own anatomy. If you have a deviated nasal septum – meaning the bone and cartilage that separates your nostrils has become damaged – it can affect your airflow. Also, breathing can be interrupted if the throat is blocked by a floppy soft palate, oversized tonsils, or a relaxed tongue. Other risk factors include a naturally large neck, being overweight, sleeping on your back, and using alcohol right before bed.
Can Sleep Apnea Ever Go Away on Its Own?
As demonstrated above, anatomy can play a big part in sleep apnea. And since your anatomy is largely fixed after adolescence, it is unlikely that the disorder will go away on its own once you reach adulthood. Children may find relief after their tonsils are removed, and they can undergo orthodontic treatment to expand their hard palates, which can further reduce symptoms. Past that, though, there is generally very little chance of sleep apnea going away without professional intervention. Thus, if you think your breathing is being continually interrupted at night, it's up to you to find a solution before your health is seriously affected.
How Can Sleep Apnea Be Treated?
A sleep dentist in Lawton can help you determine whether or not you have sleep apnea via a sleep study, and they can put together a treatment plan for you once a diagnosis has been made. One common solution is oral appliance therapy. A simple oral appliance can be used to adjust the mouth and hold the tongue in place in order to keep the airway clear. Many patients find that it's easier to comply with sleep apnea treatment that uses an oral appliance rather than a noisy CPAP machine.
There are other steps you might be able to take to keep sleep apnea under control, such as losing weight or changing your sleeping position. Talk to your sleep dentist today to learn more about the steps you can take to get a good night's rest again; don't let sleep apnea decide the rest of your life for you.
About the Author
Dr. David J. Drummond graduated from dental school in 1982 and entered the United States Army Dental Corps. He left active duty in 1988 to pursue private dental practice in Lawton. Today, he is a skilled and knowledgeable sleep dentist who offers oral appliance therapy to sleep apnea patients who don't want to use CPAP. To schedule a consultation to ask about a sleep study, visit our website or call (580) 355-0344.