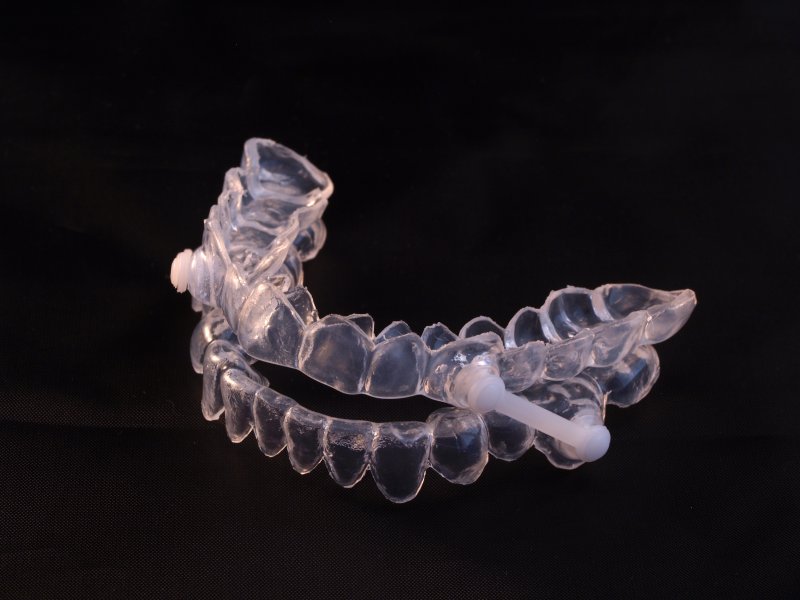 If you have sleep apnea, then you know first-hand how much it affects other aspects of your life. Aside from never getting a good night's sleep, you constantly feel exhausted and unable to focus throughout the day. After consulting with a sleep dentist for a solution, they might've given you an oral appliance to help conquer your disorder. But are you finding it challenging to adjust to your new device? Don't worry – most people do. Read on to learn how you can make the adjustment process as easy as possible.
Common Issues with New Oral Appliances
Since you're not used to having a foreign object in your mouth, your body might initially have some odd reactions. Here are some common issues more new patients experience:
Discomfort – The hard plastic of your new dental device will feel uncomfortable at first. You might even feel some tightness, but that's actually a good thing because the snug fit lowers the chance of your oral appliance falling out while you sleep.
Drooling – Initially, your mouth will produce more saliva in response to the foreign object inside of it.
Gagging – Do you have a strong gag reflex? Some patients have more trouble keeping the oral appliance in their mouth because of it.
Nighttime Removals – While sleeping, you might unconsciously remove your appliance since you're not used to it. Some people end up throwing it across the room!
How to Get Through the Adjustment Period
Like most things, time will be your best friend during the adjustment period. Wearing your oral appliance every night is the best way to overcome any issues! Over time, your brain and mouth will get used to the sensations and be able to block out feelings of discomfort. During the adjustment period, you'll notice your saliva production will return to normal, your discomfort will fade, and nighttime removals will discontinue. Usually, it takes new patients about two to three weeks to adjust to their oral appliance. Your gag reflex is the only thing that might be a bit more challenging to overcome. However, you can make the process easier by wearing your device for short periods throughout the day. With enough practice, you'll be able to comfortably wear your appliance all night long!
What If You Don't Adjust?
Are you still having trouble adjusting even after three weeks? Contact your sleep dentist right away for help. They'll diagnose the problem and make any necessary adjustments. Depending on the issue, they might even give you a new oral appliance altogether.
Ultimately, give yourself time to adjust before worrying about your new oral appliance. Before you know it, you'll be sleeping peacefully and comfortably every night!
About the Author
Dr. David J. Drummond completed his dental education at the Northwestern University Dental School in Chicago. He and his team at Stop Snoring Lawton are passionate about improving their patient's quality of sleep and quality of life. Dr. Drummond enjoys building long-lasting and meaningful relationships with his patients. If you're struggling with sleep apnea, he offers oral appliance therapy as an effective solution. For help adjusting to your new device, you can reach Dr. Drummond via our website or call (580) 355-0344.