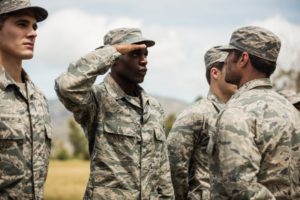 There is no one-size-fits-all solution to treating sleep apnea. Your sleep disorder does not affect you in the same way it affects others, and your treatment plan shouldn't be the same either. Many people find successful treatment using either a sleep apnea appliance or CPAP therapy. Others need to combine the two treatments to ensure quality sleep. Whatever your unique situation, Dr. David Drummond will work with you to create a personalized sleep apnea treatment plan that will allow you to remain soundly asleep throughout the night. Contact Stop Snoring Lawton to schedule your sleep apnea consultation. Until then, read on to learn more about sleep apnea therapy for all members of the Military!
Better Sleep for a Better Service
Dr. Drummond is proud to serve local communities, and he is especially proud to serve our Active Duty Members, Retirees, Dependents and all Veterans of the Military. That is one of the reasons why he has partnered with the VA and Military Health Care Services (Humana-Tricare) to provide Oral Appliance Therapy to qualified individuals who suffer from Severe Snoring and Obstructive Sleep Apnea (OSA).
Do You Believe You Could Benefit from These Services?
A healthy diet, plenty of physical activity, and sleep are three pillars of a healthy lifestyle. Most people find it easy enough to control their diet and physical activity, but sleep is another story, especially for individuals with Obstructive Sleep Apnea (OSA) and Severe Snoring (SS).
Sleep Apnea disrupts a patient's breathing at night, making it impossible for them to get the rejuvenating rest they need. Severe Snoring can disrupt the sleep of those who share sleep areas with someone with unmanaged Severe Snoring.
Research indicates that poor sleep quality impairs the ability to perform complex tasks. It degrades physical performance and alertness, reduces concentration, slows reflexes and increases fatigue and depression. It also leads to a higher risk of several systemic health conditions, including cardiovascular disease. In the particular case of the Active Duty Service Members (ADSMs), untreated Sleep Apnea and Severe Snoring can negatively impact their health, readiness and ability to deploy.
Are You Active Duty with Sleep Apnea?
Since Active Duty Service Members need to perform at their best in order to fulfill their duties, Sleep Apnea and Severe Snoring pose a threat to them, their team members and everyone they are striving to protect.
OSA and Severe Snoring can also affect those around its victims. Since it causes snoring, it can disturb the sleep of anyone who is near an OSA sufferer. Therefore, one ADSM who suffers from Sleep Apnea or Severe Snoring may unintentionally be robbing their fellow service members of the sleep they need to function at their best.
The traditional treatment for OSA, a Continuous Positive Air Pressure (CPAP) machine, is not always practical for Active Duty service members. While CPAP devices are the gold standard for the management of some forms of Sleep Apnea, CPAP machines are not particularly portable and require a clean, continuous power source to work. As such, they are not suitable for all forward deployed environments. These issues can affect a service member's deployability and unit Readiness.
An Oral Appliance, on the other hand, is small, effective, easy to pack and requires no power. Oral Appliances have proven effective in the management of Obstructive Sleep Apnea and Severe Snoring for a majority of patients. This makes Oral Appliance Therapy a fantastic treatment option for deployed service members. It can help to improve worldwide deployment readiness and mission performance.
Management of Obstructive Sleep Apnea (OSA) and Severe Snoring (SS) are areas where the office of Dr. David Drummond can support Military Medicine by enhancing the health and readiness of the Active Duty Service Member (ADSM) and thereby enhancing the health and readiness of the overall Force.
If you are and Active Duty Service Member and suspect that you may have a sleep-disordered breathing condition (Obstructive Sleep Apnea or Severe Snoring), you will need to be evaluated by your primary care physician. Diagnosis of OSA and SS must be based upon a sleep test known as a PolySomnoGram (PSG) and evaluation by a credentialed sleep medicine physician.
For the purpose of Army policy, Severe Snoring is defined as PolySomnoGram (PSG) quantified snoring without Obstructive Sleep Apnea (OSA) which results in disturbed sleep of a bed partner or other military personnel when sleeping in close quarters, and is determined by the sleep medicine physician to be readiness limiting.
For all Active Duty Service Members (ADSMs), the Army Dental Treatment Facilities (DTFs) will be your first line of treatment. However, if dental sleep medicine referrals cannot meet specialty appointment access to care standards, you can be given the option to be seen in the Tricare referral network with a qualified Dental Sleep Medicine (DSM) provider. Dr. Drummond is in the TriCare referral Network as a qualified civilian Dental Sleep Medicine provider.
Want an Alternative Treatment to CPAP at the VA?
Even if you are no longer on active duty, you still absolutely deserve high-quality sleep! If you have been diagnosed with OSA and are currently using a CPAP, you may feel that the treatment is cumbersome or uncomfortable. You are not alone. Many individuals with a CPAP machine find it difficult to tolerate. An oral appliance from Dr. Drummond in Lawton may be ideal for you.
Even though Dr. Drummond is a dentist, oral appliance therapy is not considered a dental treatment. It is a medical treatment for a medical condition. The oral appliance itself is classified as a prosthetic. Therefore, even if you do not have dental benefits through the VA, you may be able to use the benefits that you do have to receive an oral appliance that will treat your OSA and help you enjoy the restful sleep you need.
Schedule Your Consultation
Dr. Drummond and our team are ready to help you start breathing easier at night! Whether you are currently using a CPAP, or you suspect you have sleep apnea, give us a call. We'll help you figure out your next steps, which may be a sleep test or an oral appliance consultation. Our team values the service you have or are currently providing to this country. Let us thank you by helping you get the sleep you need to function and feel your best!