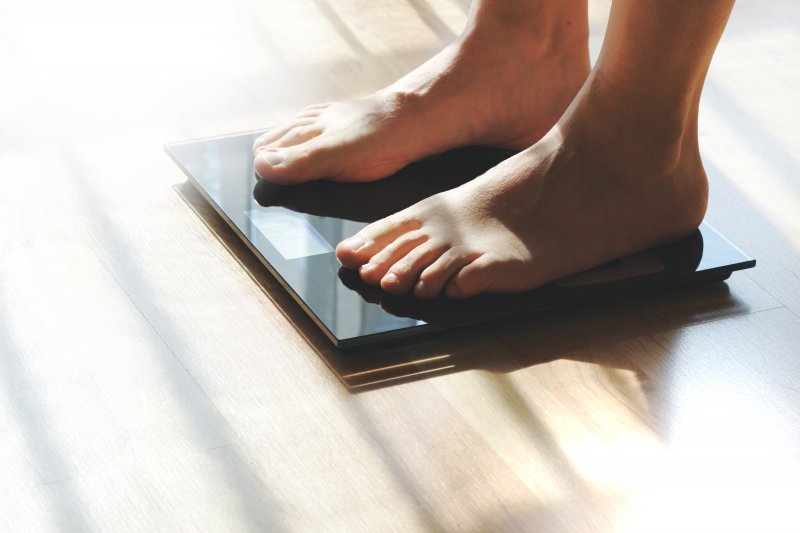 Many people carry a bit of excess weight, just like many people suffer from obstructive sleep apnea (OSA). In fact, both problems are sometimes present in these individuals. According to one study, an estimated 70% of individuals with OSA are obese. That begs the question, are weight gain and sleep apnea connected? Can something be done to manage both conditions? Read on to find out the answers to these pressing questions!
How Does Weight Affect Sleep Apnea?
The more we learn about sleep apnea, the more important links to excess body weight are emerging. It's been discovered that excess weight not only causes sleep apnea, but it can worsen the symptoms and wreak havoc on your overall health. Having excess body weight can contribute to sleep apnea by causing increased pressure on the upper airways, leading to collapse and decreased neuromuscular control from the fatty deposits. These deposits can lead to decreased lung volume, making it more difficult to breathe.
Failing to get quality sleep can also lead to weight gain, which is why it can turn into a vicious cycle. If you're struggling with either condition, it's important to understand how they relate to each other to manage them more effectively.
What Are the Health Effects of Sleep Apnea and Excess Weight?
People who suffer from sleep apnea often experience significant stress on their cardiovascular, metabolic, and pulmonary systems because they don't get quality rest. This is especially concerning for obese people because obesity can increase the risk of heart, lung, and metabolic problems. Some of those include:
Hypertension (high blood pressure)
Atrial fibrillation and other arrhythmias
Heart failure
Coronary heart disease
Type 2 diabetes
Metabolic syndrome (i.e., obesity, hypertension, diabetes, dyslipidemia)
How to Manage Sleep Apnea and Weight Gain
If you're struggling with weight gain and sleep apnea, there are many steps you can take to manage both problems. Here are some tips to keep in mind:
Get tested for sleep apnea. For a sleep apnea diagnosis, ask your dentist about scheduling a sleep test. It's non-invasive and medical insurance often covers it.
Seek treatment. Luckily, there are many ways to treat sleep apnea. The two most common treatment methods are CPAP therapy and oral appliance therapy.
Design a reasonable weight loss plan. You can ask a general physician or a dietitian for guidance on how to reduce your weight. After starting sleep apnea treatment, you'll get better sleep which can aid in your journey toward achieving your fitness goals.
As you can see, weight gain and sleep apnea can worsen and even cause one another. With the tips above, you can do your part in reducing the severity of both issues!
About the Practice
At Stop Snoring Lawton, we offer custom oral appliances as an alternative to CPAP for patients with sleep apnea. It allows said individuals to sleep soundly, breathe deeply, and wake up feeling well-rested. Our team values patient education to ensure you make the best decisions for your health. To learn more about the relationship between weight gain and sleep apnea, visit our website or call (580) 355-0344.