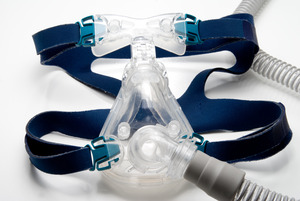 When you visit your dentist to see what kind of solution they might suggest for sleep apnea, they may recommend combined therapy. This is where you wear a customized oral appliance while also using a CPAP machine, thus allowing you to enjoy the benefits of both treatments. But before you begin your combined therapy, it's important to make sure that you understand exactly what a CPAP machine does – and how long you can expect it to last.
What is a CPAP Machine?
A CPAP machine is a device that delivers pressurized air into your nose and/or mouth via a mask. The idea is that the constant stream of air will help keep your airways open, which prevents obstructions that might interrupt your breathing and cause a sleep apnea episode.
Many people have a hard time getting used to the sounds of the CPAP machine as well as the way the mask feels. But with combined therapy, the machine is often easier to tolerate. This is because an oral appliance is also being used to maintain an open airway, meaning the CPAP system can be set to a lower, more comfortable level.
What is the Average Lifespan of a CPAP Machine?
There are different CPAP machines on the market, and their life expectancies tend to vary. When it comes to the actual machine, you can normally expect to get three to five years of use out of it.
Your CPAP mask and other pieces of equipment, however, are another story. The various parts can become worn down or damaged over time. For example, it's not uncommon for the cushions on the headgear to become stretched out, and the tubing might start to crack or tear after a while.
It's typically recommended that you replace your CPAP supplies at regular intervals. Below is the average lifespan for the various components:
CPAP masks should be replaced every three months.
The cushions and filters should be switched out on a bi-monthly basis.
CPAP headgear can normally be expected to last about six months.
The tubing that connects the mask to your CPAP machine will likely have to be replaced every six months or so.
What About an Oral Appliance?
While a sleep apnea oral appliance won't necessarily last longer than the actual CPAP machine, it also won't have to be replaced as often as the mask, cushions, filters, and so on. Furthermore, an oral appliance is much simpler and doesn't have nearly as many individual components to worry about.
If you're thinking of using combined therapy to get your sleep apnea under control, talk to your sleep dentist to see what other information they might be able to share about the life expectancy of your CPAP machine and your oral appliance.
About the Author
Dr. David J. Drummond graduated from dental school in 1982. After serving in the United States Army Dental Corps, he started practicing dentistry in Lawton. His sleep apnea office offers specialized oral appliances as well as combined therapy for sleep-disordered breathing. To schedule a consultation with Dr. Drummond, visit his website or call (580) 355-0344.