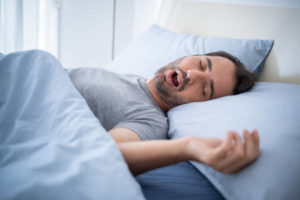 If you have sleep apnea, you know a good night's rest can be difficult to achieve. Every interruption in breathing depletes your body of oxygen, but it also interrupts your sleep cycle. Before you know it, sleep deprivation can set in, and you can be at risk of serious health issues, including heart attack and stroke. Believe it or not, better sleep can be as simple as changing your sleep position. While it's no substitute for traditional treatment, here's how you should be laying in bed to help keep your airway open.
What is Sleep Apnea?
The most common type of sleep apnea is caused by a blockage in the upper airway created by the soft tissues in the back of your mouth or throat. Obstructive sleep apnea occurs when the airways are narrowed from the soft tissues relaxing as you drift off to sleep.
You can stop breathing hundreds of times per night, with each event causing your oxygen levels to drop and jolting you awake. This cycle can have serious complications for your physical and mental health.
Benefits of Side Sleeping
Researchers have found that the worst position for sleep apnea is on your back. Instead, they recommend sleeping on your right or left side. If sleeping on your back comes naturally, finding a comfortable position can be difficult when making the switch. Place one or more pillows behind your back to help stop you from rolling over. There are also positioning devices that vibrate if you start to sleep on your back. A body pillow can provide support between your knees.
Treating Sleep Apnea
Besides changing your sleep position, you will also need an effective treatment plan, which may include:
CPAP: A CPAP machine is the most traditional treatment for sleep apnea. A gentle stream of air is delivered through a mask worn over the mouth or nose to maintain oxygen levels to prevent breathing disruptions. Although it is effective, it can be bothersome for some patients.
Oral Appliance: As an alternative to a CPAP, patients with mild-to-moderate obstructive sleep apnea prefer an oral appliance. The custom-fit device repositions your tongue jaw in a more comfortable way to prevent your soft tissues from blocking your airway. It has a higher patient compliance rate when compared to a CPAP, and you can see results within the first night. An oral appliance can be used alone or with a CPAP.
With the right treatment plan and a comfortable position, you can breathe better and sleep soundly, so you can wake up in the morning alert and feel your best.
About Dr. David J. Drummond
Dr. Drummond earned his dental degree from the Northwestern University Dental School in Chicago and has continued his education in various specialties, including oral surgery, prosthodontics, and sleep medicine. If you need sleep apnea therapy, request an appointment through our website or call (580) 227-8789.