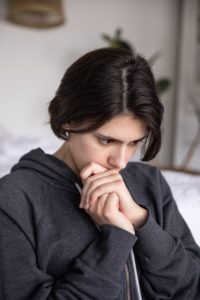 Anxiety and sleep apnea are two very different conditions, but they often go hand in hand. If bedtime causes your anxiety to rise, it can lead to a sleepless night. Anxiety doesn't cause sleep apnea, but the two are connected. Here's what you need to know to manage your anxiety and sleep apnea, so you can wake up feeling refreshed and well-rested. 
What is Sleep Apnea?
Sleep apnea is a condition that causes pauses in breathing frequently throughout the night. The most common type is obstructive sleep apnea. An obstruction is created by the soft tissues in the back of the mouth and throat. As your muscles relax when sleeping, they can narrow the upper airway.
Each event depletes your body of oxygen and interrupts your sleep cycle. With no treatment, you can develop life-threatening medical issues, like cardiovascular disease. You can also experience changes to your mental health, like irritability, depression, and anxiety. If you're not getting adequate rest, you can become sleep deprived, which can affect your cognitive abilities, increasing your risk of workplace and auto accidents.
Is Anxiety Linked to Sleep Apnea?
Many patients with sleep apnea also deal with bouts of anxiety. Lack of sleep can make it difficult for your brain to deal with stress properly. It can increase your risk of anxiety and worsen symptoms if you already have the disorder.
If you're worried about breathing disruptions or not getting enough sleep, it can cause anxiety levels to soar. Anxious thoughts can make it difficult to fall asleep, which further influences your sleep quality.
Options for Treating Sleep Apnea
You can stop worrying all night with the right solution to treat sleep apnea. After confirming a diagnosis through a sleep study, your sleep specialist will create a personalized treatment plan, which may include:
CPAP: A CPAP machine is the most traditional method of treating sleep apnea. Gentle air pressure is delivered through a mask placed over the nose or mouth to prevent pauses in breathing.
Oral Appliance: As an alternative to a CPAP, an oral appliance is effective for patients with mild-to-moderate obstructive sleep apnea. The custom-fit device positions your tongue and jaw to keep the airway open to stop breathing disruptions. It's a comfortable and effective solution that can be used alone or along with a CPAP machine.
You can manage your anxiety by treating your sleep apnea, practicing stress-relieving exercises, and maintaining a healthy lifestyle. A good night's rest is possible with the right resources and solutions.
About Dr. David J. Drummond
Dr. Drummond earned his dental degree at the Northwestern University Dental School in Chicago and has regularly continued his education in many specialties, like oral surgery, prosthodontics, and sleep apnea. If you're ready to sleep better, request an appointment through our website or call (580) 227-8789.